ERIN ANDERSON
Hairstylist & Mens Groomer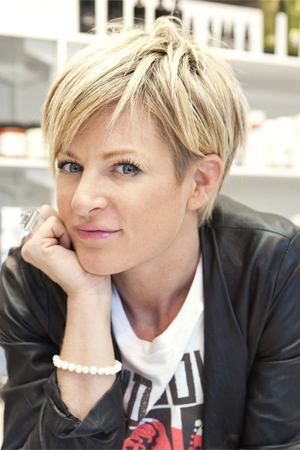 Emerging as one of the hottest talents in the industry, Erin Anderson has harnessed multiple outlets in expressing her skill, her passion and her professionalism by developing a strong fashion editorial portfolio working with the most sought after photographers in the business.  Her dynamic skills and engaging qualities have allowed her to build a steadfast celebrity clientele, especially in the niche of Mens Grooming.
Erin's start in the beauty trade began early.  After training at Bumble & Bumble, she was offered a coveted position in the company's emerging education department where she helped create and develop education formats and classes.  Always enamored by fashion, it was a natural fit for her to pursue a freelance/editorial career, which led to her make a move to London.  While in Europe, she assisted hairstyling legend Eugene Souleiman, joining him in New York, Paris, and Milan on fashion shows, editorial, and advertising jobs.
After working with the most creative hair professionals in the industry, Erin's individuality and talent blossomed. She has collaborated with renowned photographers such as Richard Burbridge, Patrick Demarchelier, Terry Richardson, Norman Jean Roy, Maciek Kobielski, Rudolfo Martinez and Catherine Servel to create editorial looks for Vogue, Teen Vogue, V, New York Times Magazine, Pop, and Vanity Fair.  Erin has also keyed fashion shows for designers such as Yigal Azrouël, Trovata, Nili Lotan, and Tracy Reese.
Erin's dynamic skills and engaging qualities have attracted such loyal clients as Neil Patrick Harris, Matt Bomer, Kevin Bacon, Gerard Butler, Zac Efron, Jonathan Groff, Alex Pettyfer, Andrew Lincoln and Peter Sarsgaard who regularly call upon her.  Musicians such as The Pussycat Dolls, MGMT, KT Tunstall, Jared Leto/ 30 Seconds To Mars, Brazilian Girls, Von Blondies, Fergie, and Natasha Bedingfield seek out Erin when they want a Hairstylist who they can trust and look to for style advice.  Erin consistently establishes great relationships with emerging bands from New York to Los Angeles, not to mention having worked with leading actresses such as Kristen Bell, Vera Farmiga, and Chloë Sevigny.
The success of her Brooklyn Salon and both NY and LA Apothecaries, Woodley & Bunny, a joint venture with her sister and partner Misha Anderson, has allowed Erin the ability to keep her finger on the pulse of all that is new and cool in the arenas of fashion, beauty, and lifestyle.  And with the addition of W&B Distribution, not only has Erin been responsible for the content and execution of product education for their hair care brands, but also through her talent and reputation she has proven the ability to establish profitable partnerships with clients.  Through this platform they have exposed cult beauty addicts in North America and Canada to the unique beauty brands they find abroad – cultivating and curating the ultimate beauty experience for the Salon and its clients.
Erin's expertise and charisma have attracted such brands as SEDU (HSN), VO5 and TRESemme for whom she has previously served as a Spokesperson and hosted on-camera and behind-the-scenes reporting segments at New York Fashion Week's Bryant Park tents.  Designers, beauty editors and industry media outlets such as Elle, W, Allure, Refinery29.com, BeautySage.com continue to call on her frequently for her Expert advice and trend reporting.  Her creative and technical skills showcased throughout her brilliant freelance work, coupled with her sound business sense exhibited in her work as a Brand Ambassador are what keep her ahead of the curve and her future bright.
Erin currently resides in Los Angeles and works bi-coastally in New York.
To learn more about Erin and to book her, click here.