STELLA KAE
Celebrity Makeup Artist & Hairstylist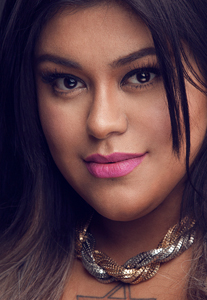 Stella Kae is a social media powerhouse. Not only is she the Top Google Search Result for "Celebrity Makeup Artist" since 2013, she also has well respected names on her client list to back it up, names such has Alyssa Milano, Jim Carrey, Patricia Arquette, Michael B. Jordan, Jeanne Tripplehorn, Graydon Carter, Geri Halliwell, Toni Braxton, Garcelle Beauvais, Pedro Almodovar, Spike Jonze, and Milos Forman to name only a few.
A former fashion journalist who had a brief stint in fashion PR, Stella Kae used her diverse skills and background to create Trashionista.net in the early 2000s – a a fashion and beauty blog with 1 million subscribers in over 148 countries that was in the first generation of blogs to be invited to New York Fashion Week. She launched the site while building her portfolio as a freelance makeup artist also having been published in publications such as Vanity Fair, InStyle, V, Cosmopolitan, Dazed & Confused, WWD, Modern Luxury, MORE, POP, New York Post, and People Magazine. 
In addition to her work which spans from red carpet to commercial advertising, Stella is also continuing to make her mark in new media as Executive Producer and cast member of the world's first beauty tutorial-based reality series, called #PRETTYRAD," which cleverly integrates the hundreds of thousands of social networking followers the ensemble cast has combined. 
Though she truly loves every second of glamming up recognized faces, her true passion lies in inspiring every girl and woman to feel beautiful. Through promoting body positive values and self-acceptance, Stella Kae hopes to show everyone that the true celebrity lies within.
To learn more about Stella and to book her, click here.