ASHLEY BORDEN
Celebrity Trainer, Fitness & Lifestyle Expert Consultant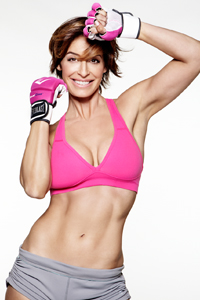 http://www.ashleyborden.com
http://instagram.com/ashleybordenfitness
Ashley Borden is recognized globally as a Fitness & Lifestyle Expert / Consultant to some of Hollywood's most recognizable faces and world-class athletes. Accruing over 35,000 hours of personal training experience, her unique approach to fitness can be attributed to having tackled her own personal struggles, transforming them into a positive philosophy and dynamic training program – making her one of the most sought-after Experts in her field.
Ashley's ability to customize her training system, coupled with her sharp wit and candor, suits many types of high profile clients from Christina Aguilera, Natasha Bedingfield, Mandy Moore and Ryan Gosling, to the likes of World Series Champions' Nick Swisher of the New York Yankees, Brian Wilson, and UFC 9x Champion Matt Hughes. She also works as a master trainer with fellow trainers and coaches.
Ashley's tips and techniques have been featured in InStyle, Vogue, Elle, Allure, Shape, and the Los Angeles Times, to name a few. An advisor for Livestrong.com, she has also been internationally recognized by publications such as Elle Japan, Harper's Bazaar Russia, Who Australia and London's NOW magazine. The Huffington Post declared her one of the "Top 20 Fitness Experts Worth Following on Twitter," and Greatist.com named her one of the "Most Influential People in Health & Fitness." Women's Health named her a "Top Body Transformer," one of only six trainers in the country. Women's Health UK also selected Ashley as "One of the World's Top Trainers." On Television, Ashley can be seen as a featured Expert on The Today Show, The Doctors, Rachael Ray, Discovery Health, Hallmark's Home & Family, The Steve Harvey Show, The Cooking Channel, VH1, MTV, E! and more.
Publisher McGraw-Hill debuted Your Perfect Fit, a book co-authored by Borden and denim designer Paige Adams-Geller (of Paige Denim) in 2008. The book, the first to marry fashion, fitness and Borden's SOS food plan, was given kudos by the Wall Street Journal.
Ashley has also released multiple successful training DVDs: 900 Calorie Burn in collaboration with Gaiam, 6 Weeks To Sculpted, which was voted #1 Workout DVD" by Fitness Magazine, and her newest 21-day program, The Body Foundation, which will launch at the end of 2016.
After a successful three year run at the Four Seasons Punta Mita, Mexico, Borden brought her private and corporate luxury fitness retreats to the 5-star Pelican Hill Resort in Newport Beach, California. The four-day experience included personal training, spa treatments and customized meals by the executive chef according to Borden's S.O.S. Food Plan. Her retreats are now available to be tailored for individuals or companies at any resort property.
Ashley volunteers with the physical rehabilitation of breast cancer survivors and also worked with with at-risk youth through the Chaka Khan Foundation, helping children to improve their knowledge of nutrition and fitness. An avid dancer growing up, she always felt an inherent connection to fitness, yet battled a vicious eating disorder throughout her teen years. Hitting bottom at 18, she finally found a peaceful balance of exercise and nutrition through Overeaters Anonymous. "After having such a profound recovery experience, I felt inspired to share my insight on exercise and nutrition with others," she says. Borden currently trains privately and at Lockbox LA, and is represented globally by Ivy Eleven.
To learn more about Ashley and to book her, click here.