DR. ALEXANDER RIVKIN, MD
Cosmetic Dermatologist, Facial Cosmetic Surgeon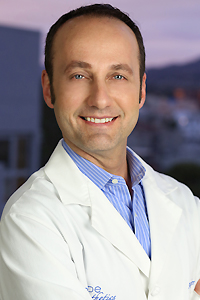 http://www.westsideaesthetics.com
Dr. Alexander Rivkin is a Yale trained facial cosmetic surgeon and Assistant Clinical Professor at the David Geffen UCLA School of Medicine. He has focused his practice exclusively on providing patients in Los angeles with the latest in non-invasive, non-ablative cosmetic treatments. Dr. Rivkin is an international authority on non-surgical cosmetic treatments. He divides his time between patient care, clinical research, educating other physicians, spokesperson and media appearances, and lecturing at scientific conferences all over the world.
A pioneer of non-surgical procedures in Los Angeles, Dr. Rivkin understands that no one relishes the thought of "going under the knife," and believes modern medical technology can provide today's patients with superior alternatives to invasive, painful surgery that requires a long recovery time. He has dedicated his career to developing these alternatives, creating exceptional cosmetic solutions that his patients can access without the fear which has long been associated with cosmetic surgery.
After several years of being an Allergan Clinical Educator, Dr. Rivkin was recently honored with Black Diamond level status: recognition that he is among the top 1% of Botox providers in the world.
An Expert in non-surgical cosmetic procedures Dr. Rivkin is renowned for non-surgical alternatives to commonly performed cosmetic procedures. He has been featured on The TODAY SHOW, The DOCTORS, Good Morning America, The Tyra Banks Show, EXTRA, Univision, PBS, KNBC-TV, KABC-TV, FOX News and many others. He has also contributed to numerous national publications such as The New York Times, The Washington Times, ELLE and BAZAAR for the innovative procedures he has invented.
Dr. Rivkin's vision is to change the way aesthetic medicine is practiced today. He wants to see all patients have more non-invasive cosmetic options and spends a significant amount of time educating other physicians both in the office and at seminars and meetings around the world. He is a prominent member of the national teaching faculties for Allergan, Merz, Suneva and Galderma. he is also a member of the physical advisory boards for Allergan, Suneva and Merz.
Over the years, Westside Aesthetics has become a major center for clinical research and Dr. Rivkin is now one of the most sought after Principal Investigators in the field. He conducts a broad range of scientific efforts, including evaluating new injectable agents for approval of the FDA, evaluating new uses for injectables that are already approved by the FDA and determining the optimal dosage ranges of approved injectables. Dr. Rivkin's research ha lead to a series of publications in some of the most respected, peer reviewed journals of aesthetic speciality.
Giving back to the community is a priority for Dr. Rivkin. He is honored to serve on the boards of a number of charities including the Lynne Cohen Foundation for Breast and Ovarian Cancer Research and the New West Symphony Orchestra.
As a physician, he has always been known for his artistic eye and precise surgical hand. During a consultation with Dr. Rivkin, you can expect to receive his undivided attention, honest recommendations and expert advice. He genuinely cares about each patient and wants to educate as well as ensure optimal results. He will never allow his patients to look overdone or fake. His philosophy is to enhance each person's natural appearance in a way that makes them look refreshed and rejuvenated, while avoiding the risks, downtime and costs associates with invasive surgery.  Dr. Rivkin is represented globally by Ivy Eleven.
To learn more about Dr. Rivkin and to book him for media endorsements click here.