KALEE HEWLETT
Fashion Stylist & Style Expert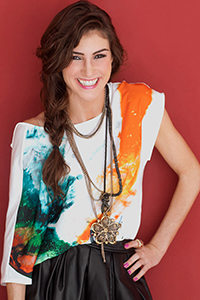 Kalee is an established Fashion Stylist, Style Expert and Fashion Host, who has worked in the industry for over a decade. In addition to working on feature films, television, commercials, pop promos, international fashion titles and personal styling for a number of prominent TV personalities, Kalee was appointed Lead Stylist for the first series of TLC's 'Ultimate Shopper' and styled Brix Smith Smart and Holly Valance for the show.
Kalee recently hosted fashion TV series 'Design Genius-Season 2′ and was appointed as lead judge on the show. The 6 part series saw designers compete in challenges for the title of 'Design Genius,' and the cash prize of $20,000. The show was screened internationally on Fashion One, with a reach of over 120 million across Africa, Asia, Europe, Middle East and South America.
For the last three seasons, Kalee hosted the elite Luxe Lounge at Vodafone London Fashion Weekend in association with the British Fashion Council and presented her own style workshops to VIP customers. She formulated her own content for each workshop that she hosts and tailors her presentations to suit targeted audiences.
Kalee was appointed as an Ambassador spokesperson for a Jergens skincare campaign last summer, whereby she fronted the campaign and encouraged the public to put their 'skin on show' in a trend led fashion. She collaborated with Slendertone delivering key expert fashion tips on social media channels, giving guidance on how to dress for various body shapes and was featured as the Style Expert on 'Celebrity Beauty Secrets,' which aired on Sky and Fitness and Beauty TV. Kalee has also presented and hosted Rimmel London's online fashion coverage for the past three seasons over London Fashion Week
In 2011, she toured the UK with the Suzuki Streets Ahead team presenting style workshops onstage to fashion focused audiences. She later went on to Host the Suzuki Stage at The Clothes Show Live in Birmingham where she was a regular Guest Presenter on the Style Stage offering her expert fashion advice.
Kalee has applied her fashion expertise to numerous projects and was the chosen Fashion Expert for the Newbury Races and offered style advice to anyone who was 'new to racing,' which involved live interviews with BBC Radio Berkshire.
Kalee's talents are also in the written form. She writes her own fashion blog; 'The Style Hanger,' which is infused with Expert advice and Style tips.
As part of her blog, she hosts her own YouTube channel, which is a the definitive channel for expert fashion, style tips, inspiration and advice. Each video teaches you something new within the realms of fashion. It has almost reached 208,000 views and continues to grow daily. The channel has joined forces with StyleHaul, the largest fashion and beauty network on YouTube with a leading multi-platform marketing solution for global fashion and beauty brands. StyleHaul is leading the next generation of fashion-forward influencers.
To learn more about Kalee and to book her click here.