LAUREN ROXBURGH
Celebrity Trainer, Alignment Expert, Author & Speaker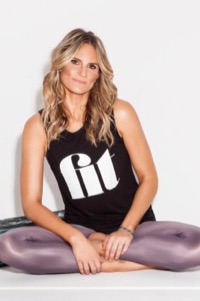 http://laurenroxburgh.com
http://instagram.com/loroxburgh
Lauren Roxburgh is the international best-selling Author of "Taller, Slimmer, Younger – 21 Days to a Foam Roller Physique." Founder of BE Aligned by Lauren Roxburgh, creator of the Lo Rox Aligned Rollers and the BE Aligned video series.
Certified in the fields of Structural Integration, Classical Pilates, Nutrition and Pre/Post-Natal Yoga, Lauren is one of the most sought-after Experts in wellness and the go-to writer and Expert on all things fascia, alignment and foam rolling. She regularly works with the country's top celebrities, athletes and orthopedic surgeons. She was named "Body Alignment Pro" by Vogue, and dubbed "The Body Whisperer" by Gwyneth Paltrow's Goop.com, Lauren has also been listed as one of 8 Tech Pioneers to watch by Entrepreneur Magazine and one of the "Hottest Trainers in America" by Shape magazine and names one of the W20 Top Wellness Warriors to Watch by Mind Body Green.
Over the last 15 years, Lauren has developed her Aligned Life Method. Aligned Life is a completely unique method that blends the best assets of her training and experience across a wide range of techniques and disciplines to create a truly holistic approach to health, wellness and fitness that centers on finding balance and alignment in the body with a particular focus on fascia.
A dynamic presenter who truly has the ability to engage and inspire audiences, Lauren is also a popular speaker at seminars, retreats and workshops all over the world where she teaches her method. She is also a frequent presenter on television and numerous online courses. Lauren is represented globally by Ivy Eleven.
To learn more about Lauren and to book her, click here.