TRACY O'CONNOR
Lifestyle, Beauty & Travel Expert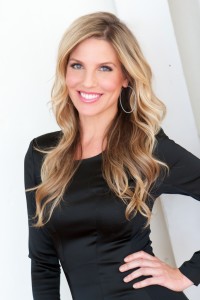 A creative force, Tracy is a lifestyle writer, travel reporter and beauty industry consultant.
Entrepreneurial at heart and in action, Tracy co-founded Los-Angeles based skin care clinic and product line, Kate Somerville, where she helped establish the privately held company as an industry pioneer. Her dynamic vision and strategic relationships helped skyrocket the company from start-up to multimillion-dollar success story in just a few short years.
On the writing front, she is currently finishing a Lifestyle book with model/actress, Molly Sims, slated to be out in the Winter of 2015 and published by Harper Collins. She is also a regular beauty, wellness and lifestyle contributor to Livestrong.com and has a monthly Travel Column in Genlux Magazine, Orange County & Los Angeles.
On-camera, Tracy is a contributing Beauty & Lifestyle Expert for Fox "Good Day LA" and a Travel Reporter for Hallmark's "Home & Family." She has served as a Expert Ambassador for Kiehl's, Vichy and Stemage, and has hosted a digital roundtable series by La Roche Posay, featuring advice from top dermatologists. Her original web series, "The Beauty Lab," that she created, produced and hosted for eHow.com, has garnered over one million views on YouTube. She also appeared in a pilot for the Style Network and is frequently hired as a Host and an Expert.
Recently in partnership with Demand Media Studios and L'Oreal, Tracy produced, directed and hosted the largest How-To Video library on the internet, featuring over 1100 unique video titles dedicated to skincare, makeup application and hair styling. She has worked with A-list experts in every category, including hair stylists, fitness gurus, cosmetic scientists and laboratories, high-tech engineers, and top doctors and cosmetic surgeons.
A native Californian, active volunteer with School on Wheels, and home-based in Hollywood, Tracy encourages everyone to eat more vegetables, adopt a dog, wear sunscreen and get out on the open road.
To learn more about Tracy and to book her click here.